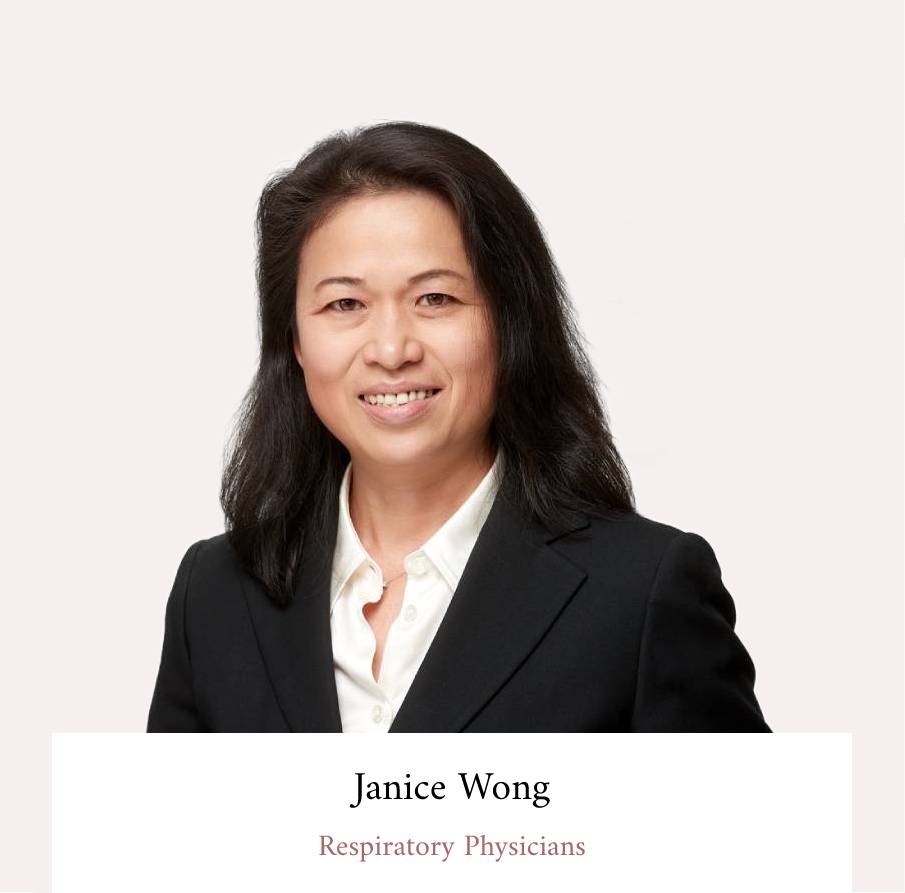 I was born in Hong Kong and went to Melbourne to complete my high school education there. I obtained a scholarship to study Medicine and Surgery at the University of Melbourne. After graduating, I spent some time travelling and had working holidays in Tasmania and New Zealand. Having decided to make New Zealand home, I completed my specialist training in Thoracic and Sleep Medicine in 2004. Following an initial consultancy position in North Shore Hospital, I took up a position as a Respiratory Physician at Waikato Hospital in 2006.
I have interests in a wide range of areas in Respiratory Medicine and hold the portfolios in lung cancers, interventional pulmonology and cystic fibrosis at Waikato Hospital. Trained in 2004 by Professor Noriaki Kurimoto in Japan, the inventor of the Olympus endobronchial ultrasound (EBUS) guide sheath technique, I was the first respiratory physician in New Zealand to become proficient in EBUS. I have been fortunate to lead the adult cystic fibrosis team since 2007 after working with Professor John Wilson at The Alfred, Melbourne. My more recent focus has been in improving lung cancer care in Waikato by collaborating with the dedicated research team at the University of Waikato.
I am also passionate about teaching and hold a role as an honorary Clinical Senior Lecturer in Medicine at the University of Auckland. I have been an examiner for both Auckland Medical School and the Royal Australasian College of Physicians. I was the president of the Asthma Waikato Society from 2007-2010.
Investigations of chronic cough and breathlessness
Suspected lung cancer
Airway diseases including asthma, COPD and bronchiectasis 
Diagnostic & therapeutic bronchoscopy, linear and radial EBUS
Cystic fibrosis
Qualifications
FRACP (2004)
PGDipObstMedGyn (Auckland 1998)
MBBS (Melbourne 1995)
Current Employment
Consultant Respiratory Physician at Waikato Hospital
Training
Advanced Respiratory Training at Auckland City Hospital and Waikato Hospital (2001-2004)
Medical Registrar at Waikato Hospital, Auckland City Hospital and Middlemore Hospital (1999-2001)
Medical house officer at Launceston General Hospital, Tasmania and Waikato Hospital (1996-1998)
Research and Publications
Barriers and enablers to early diagnosis of lung cancer in primary healthcare for Maori communities (2021)
Management of patients with early stage lung cancer – why do some patients not receive treatment with curative intent? (2020)
IgG4-related disease in lung: a diagnostic challenge (2020)
Characteristics of lung cancers and accuracy and completeness of registration in the New Zealand Cancer Registry (2018)
EBUS TBNA for mediastinal lymph node diagnosis in Waikato Hospital (2014)
Principal investigator and sub-investigator of multiple international clinical trials in treatment for cystic fibrosis, COPD, bronchiectasis and influenza at Waikato Hospital Site (2007-2018)
Audits of oxygen prescribing practices in New Zealand hospitals (2006, 2014)
The clinical utility of incremental shuttle walk testing in preoperative assessment for lung resection (2004)
Memberships
Fellow of the Royal Australasian College of Physicians
Thoracic Society of Australia and New Zealand
European Respiratory Society
I am a Southern Cross Affiliated Provider
I was born and raised in Malaysia. I completed Bachelor of Medicine study and my internship years in the UK before moving to Hamilton in 2008 where I carried out most of my post-graduate medical training. After completing my final year of specialist training in Melbourne, I returned to work as a Respiratory Physician at Waikato Hospital in March 2019. Currently I hold a portfolio in bronchiectasis and also report cardiopulmonary exercise tests at the respiratory department.
I have a great interest in research. As an undergraduate, I completed a research study in pulmonary sarcoidosis through the University Hospital Southampton biomedical research unit. I also completed a PhD study on cardiac abnormality in chronic obstructive pulmonary disease (COPD) at the University of Otago. I have won multiple research awards and have presented at many major international conferences. I am also a regular peer-reviewer for international respiratory journals.
I practise evidence-based and patient-centred medicine as I believe that they are both complementary in improving patient care.
I am well-travelled and enjoy running, tramping, and fine dining.
Investigations of breathlessness and chronic cough
Chronic airways disease – COPD/emphysema, asthma, bronchiectasis
Pulmonary sarcoidosis
Pleural diseases
Lung cancer
Interventional bronchoscopy
Qualifications
BM (Southampton 2007)
PhD (Otago 2016)
FRACP (2019)
Current Employment
Respiratory Physician at Waikato Hospital
Training
Foundation year training at Basingstoke North Hampshire Hospital and Portsmouth Queen Alexandra Hospital, UK (2007-2008)
Physician training at Waikato Hospital (2008-2012)
Research Fellowship and PhD (2012-2016)
Specialist training in Respiratory Medicine at Waikato Hospital (2013-2017) and Monash Medical Centre (2018-2019)
Research
Identifying prognostic markers in acute pulmonary sarcoidosis. American Thoracic Society International Conference (2007)
EBUS-TBNA for mediastinal lymph node diagnosis in Waikato Hospital. Asia Pacific Lung Cancer Conference (2014)
A double-blind, randomised, placebo-controlled study of roxithromycin and doxycycline combination, roxithromycin alone, or matching placebo for 12 weeks in adults with frequent exacerbations of COPD. Journal of Negative Results in Biomedicine (2015)
Cardiac dysfunction during exacerbations of COPD. Lancet Respiratory Medicine (2016)
Monoclonal antibody therapy in cystic fibrosis and asthma. Australasian Cystic Fibrosis Conference (2019)
MULTI-PHACET – MULTIdimensional clinical phenotyping of hospitalised acute COPD ExacerbaTions. European Respiratory Journal Open Research (2021)
The impact of COVID-19 pandemic restrictions on the cardio-respiratory health of New Zealanders (2021)
Memberships
Fellow of the Royal Australasian College of Physicians
Thoracic Society of Australia and New Zealand
European Respiratory Society
I am a Southern Cross Affiliated Provider
Contact Us
Booking a consultation
Get in touch today with one of our medical specialists and we'll arrange a time that suits you to go over your situation.